"Hooray!" for Hard Work & Home Learning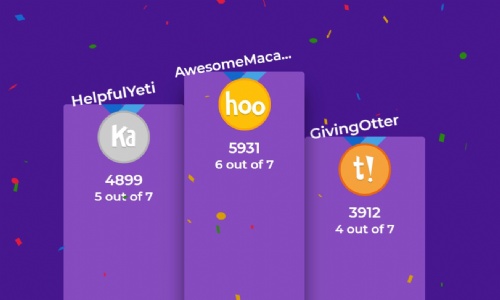 In response to the pandemic and essential Public Health guidance, Trinity Solutions Academy commenced a remote learning trial for English and Maths, and virtual Digital Skills lessons for LLDD. The idea was to protect the bubbles established across vocations, eliminate risks to vulnerable family members, and alleviate learners' anxieties surrounding public transport.
English
In English sessions, students have been utilising a range of Microsoft Teams Functions to engage in lessons both individually and in collaboration with their peers. During our 'Stress and Writing to Advise' topic, Level 1 students used the Whiteboard to predict or reflect upon the consequences of failing to manage frustrations in a variety of contexts.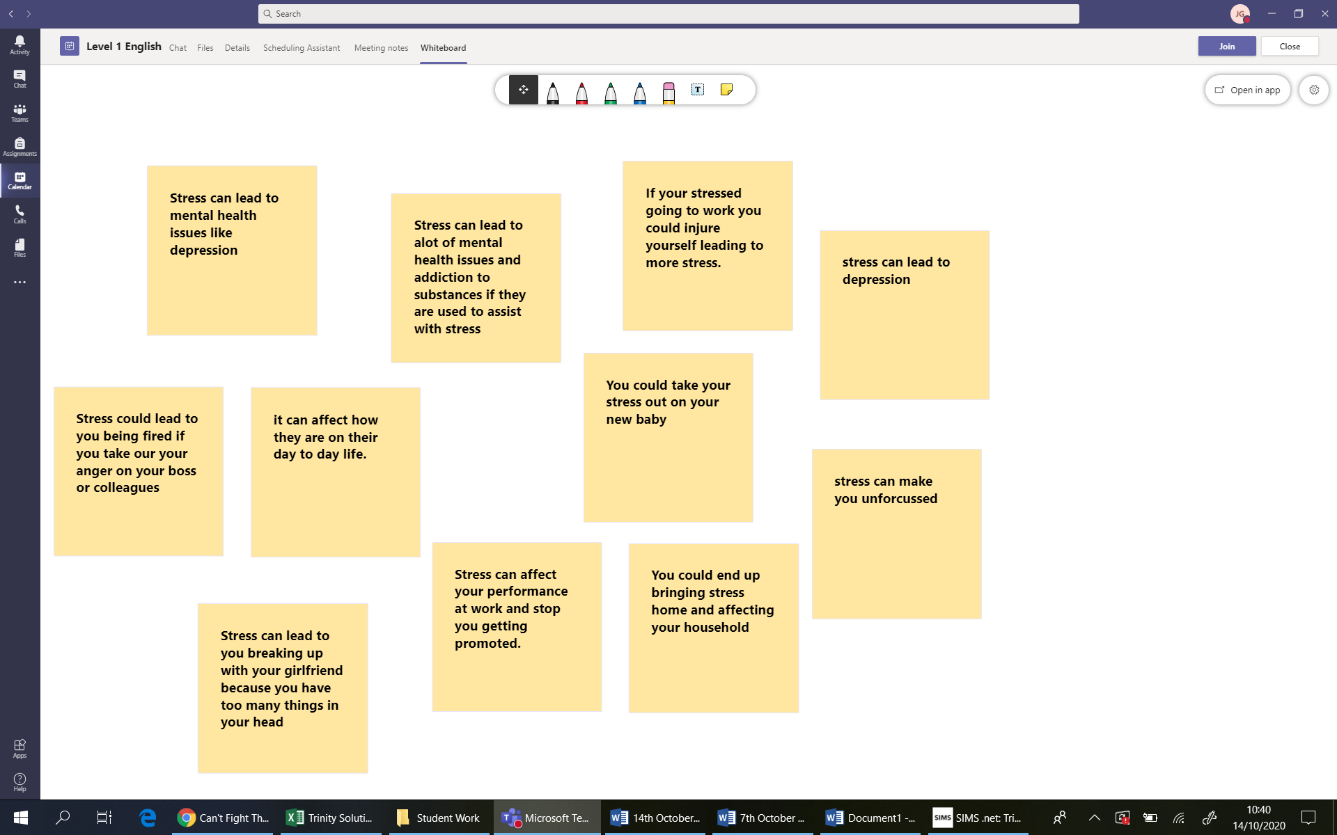 Students have employed formative assessment digital tools such as Kahoot! to demonstrate their existing knowledge and showcase what they have learned at the end of a topic. In Level 1 and Level 2, learners have created their own quiz questions to form starter activities for future sessions.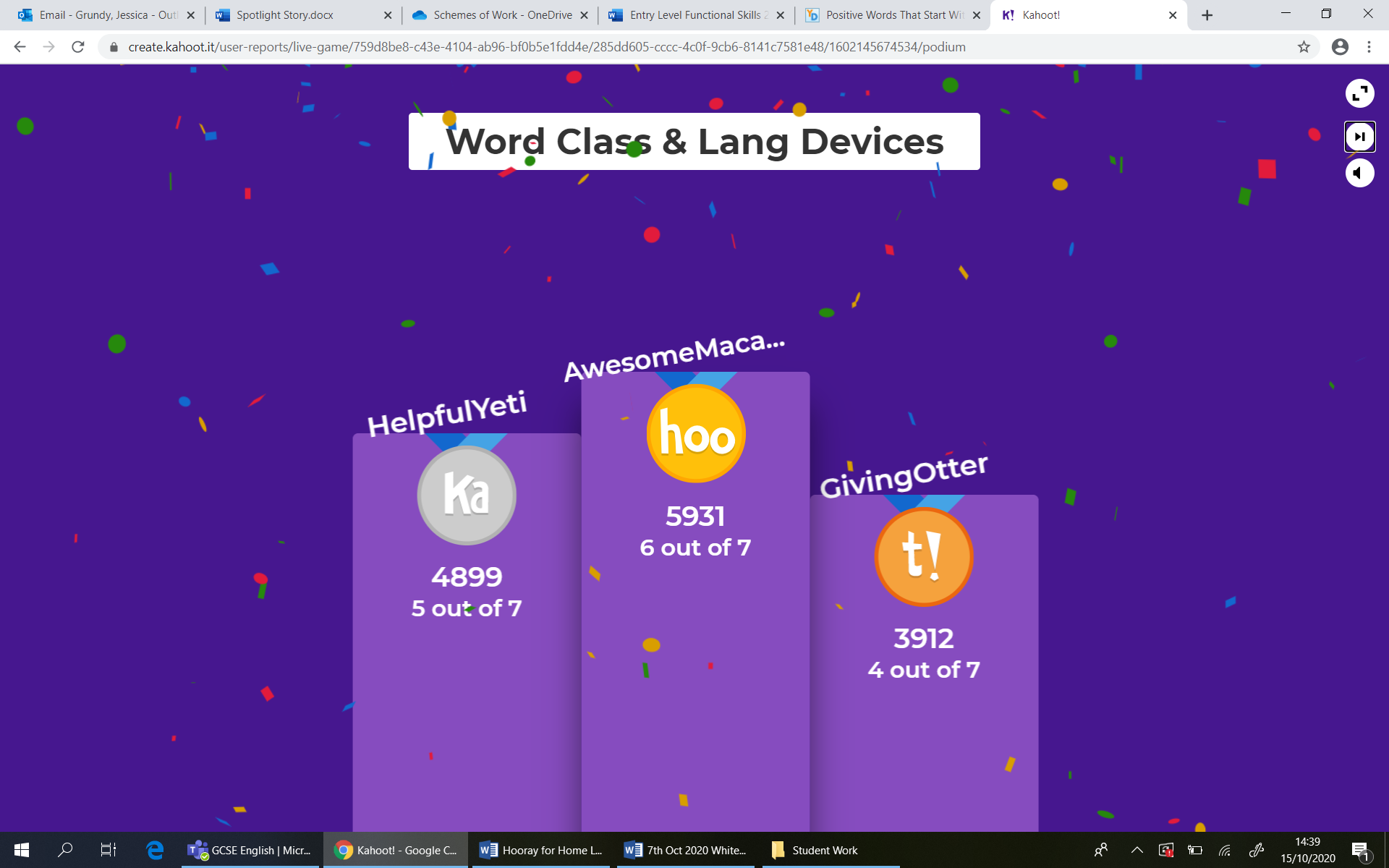 In GCSE English, students have been practicing sharing their screens to facilitate peer assessment. Recently, they read out their P.E.E. paragraphs and cooperated to list two strengths and one target for each other. This is a practice that we will encourage in future lessons as peer-teaching is vital to the parenting element of our programme.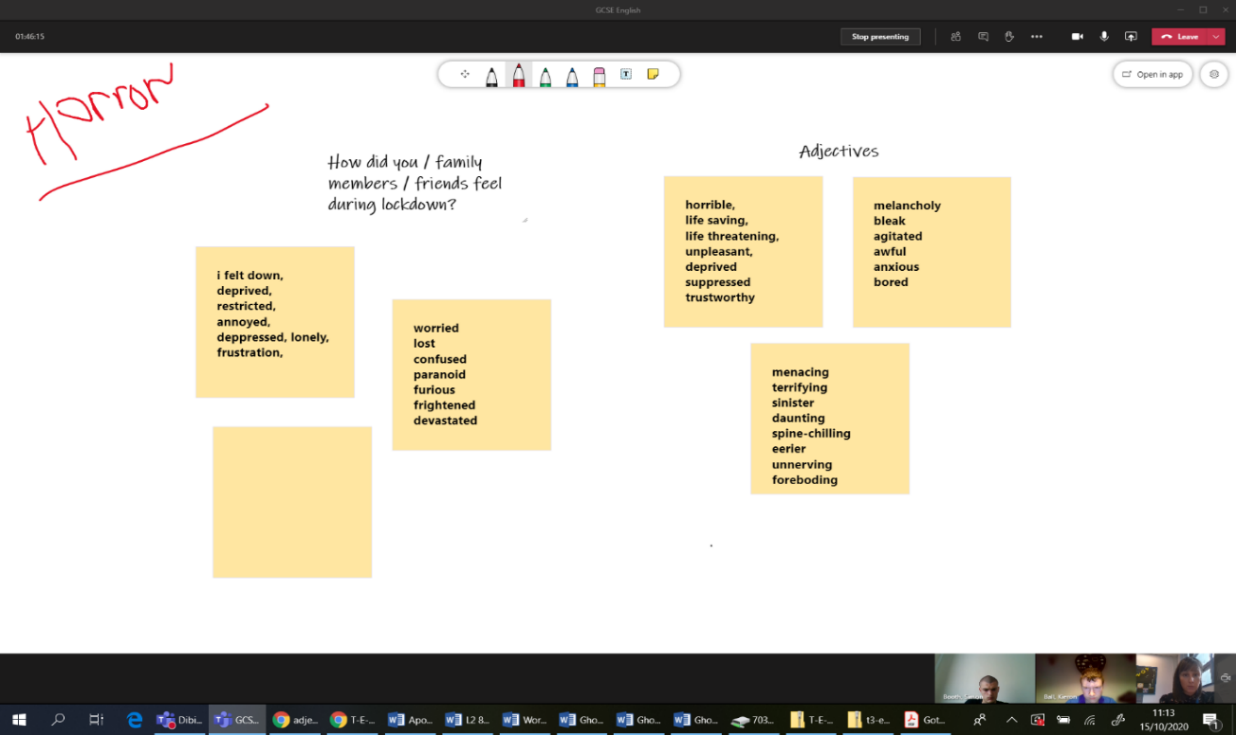 When asked how they felt about virtual learning, Simon commented, "I've enjoyed the ease of just logging straight into the lesson and I believe that I could continue this long term" and Kieron said, "I have enjoyed virtual learning more than physical learning because it's like you're getting 1:1 lesson for a full lesson. I find it easier to focus and learn, and I've got more done."
Maths
In Maths sessions, learners have been working really hard to adapt to their new virtual classroom environments. After completing online assessments we have been able to target areas of need for the learners and so far have covered topics like order of operations and averages.
Students and staff have been making use of the whiteboard function. This has been particularly useful when practising multiplication using the grid method. Pupils can be assigned colours and tasks to complete, allowing for us to check for understanding and support those who need more help.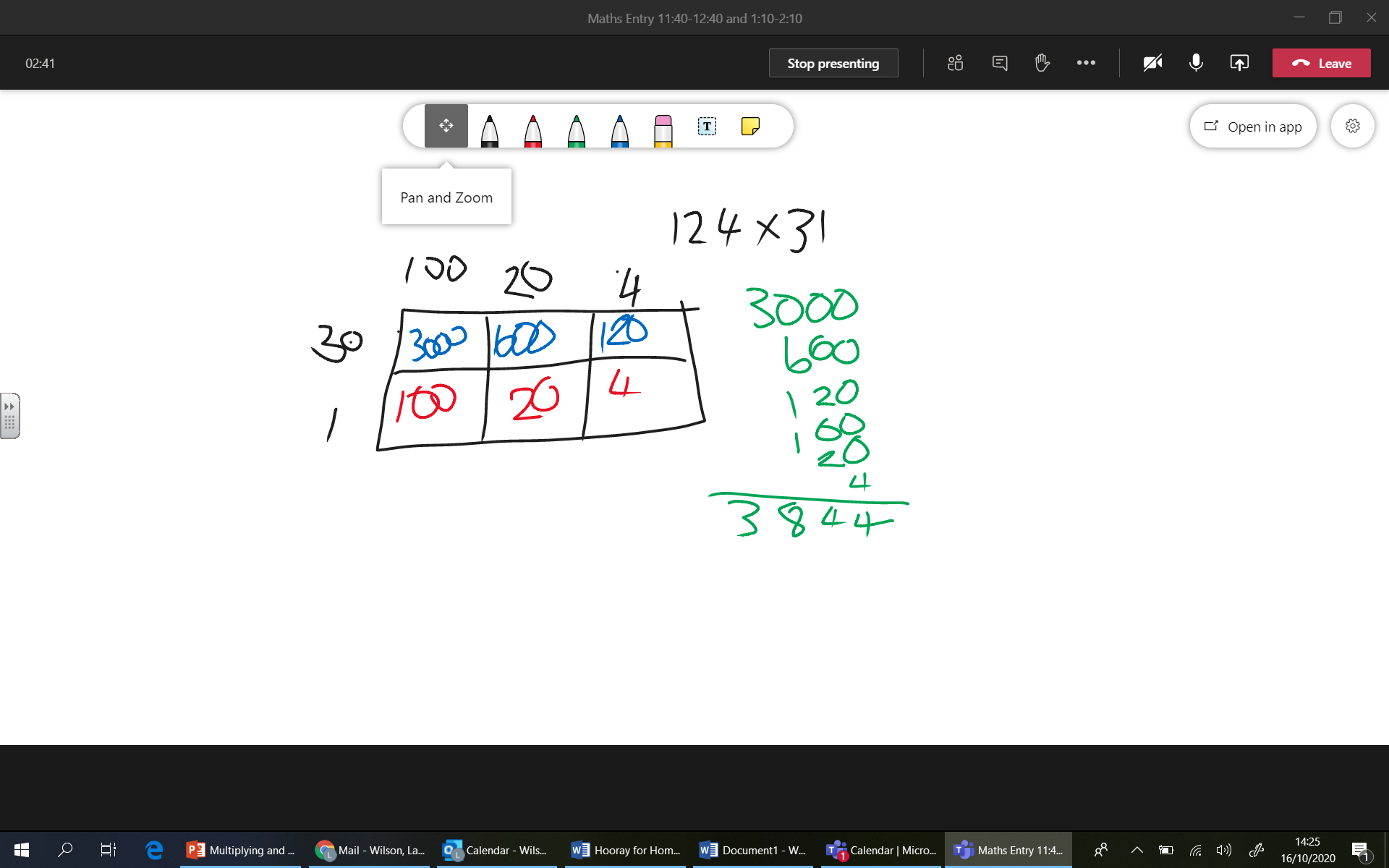 Another useful feature is being able to bring in platforms such as YouTube. We recently completed a lesson on comparing decimals and the learners watched the 100m sprint from the Olympics and were able to rank the competitors, using their running times. The ease of access to YouTube, Google, Skills Forward etc. allows for a more engaging lesson and develops the learners' digital skills as well as their subject knowledge.
Overall the virtual maths sessions are off to a flying start. Keep up the good work, Trinity!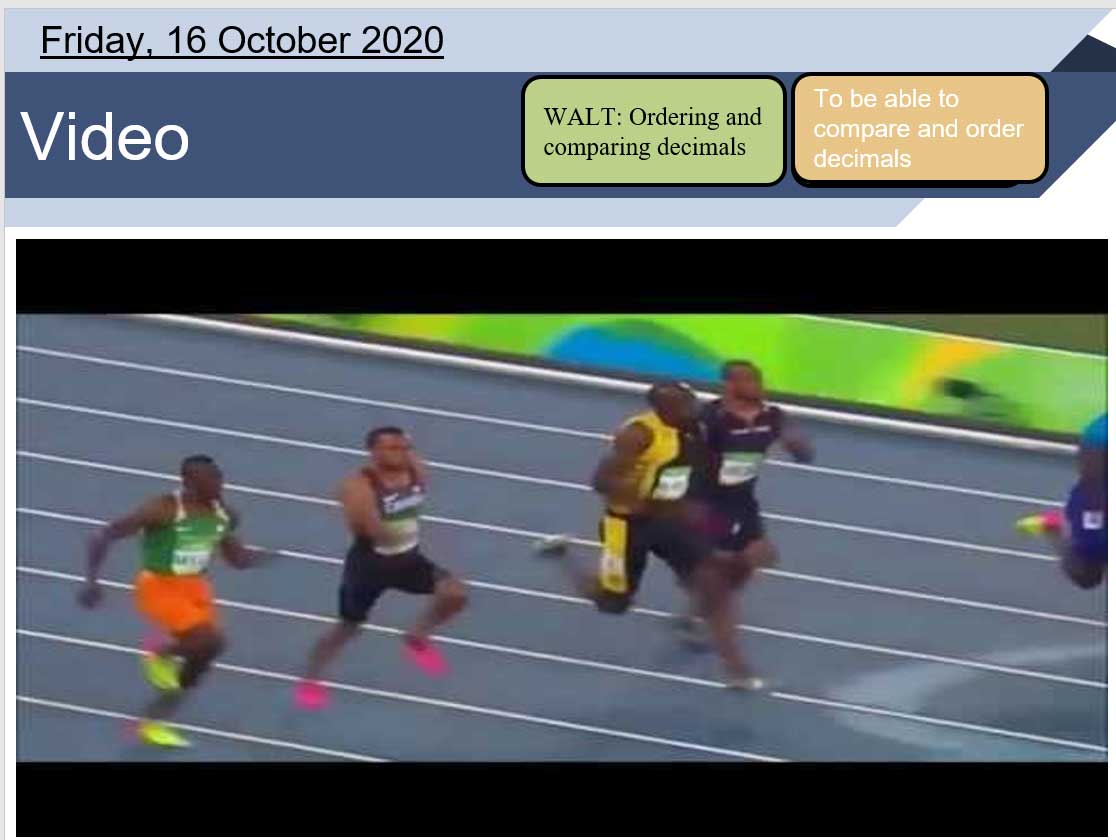 LLDD
LLDD have worked hard during their weekly Digital Skills lessons, becoming more familiar with Microsoft 365, Teams and online safety. Our learners have showed great progression and developed their skills, even creating a booklet explaining how to log into a Team's lesson!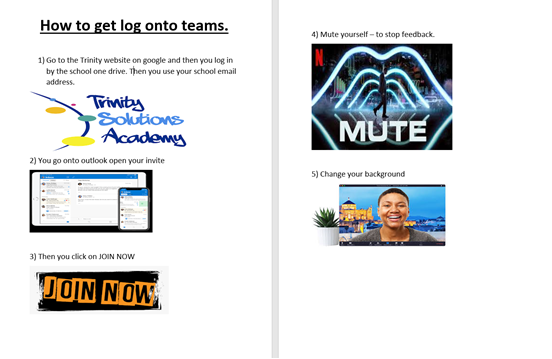 LLDD continued to evolve their digital skills this week as they had to enter a virtual lesson independently whilst their tutor (Dan Shuttleworth) self-isolates at home! Another impressive feat, showing great retention and a desire to learn!
As we continue to progress into virtual learning LLDD will be using technology for many more of their hub-based lessons such as, P4A and IAG. After half-term, LLDD will be taking part in a virtual project with Leonard Cheshire, where they will learn all about animation and internet safety!