Natural Helpful Skills from Aiysha​​​​​​​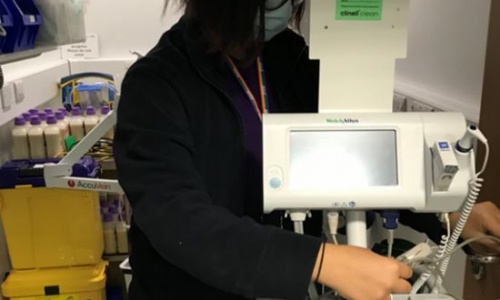 If you recall back in our September newsletter we reported on the success of Trinity Post 16 learner Aiysha who had just started the next steps in her preparation for adulthood by securing a place on Project Choice's supported internship programme.
Imagine our delight and surprise in a recent presentation by Project Choice recruiting for their September 2021 intake to see Aiyshain the presentation promoting the programme! We went on to learn that she has also recently assisted with a conference at the Trust where she promoted the project, encouraging other young adults to join as a Supported Intern. She said
'It's hard work, but I am really enjoying it, it's a really good project and the mentors are really supportive.  I really recommend this project'.
This is a programme you do have to be ready for and fully committed to all of which Aiysha radiates as has been recognised by Project Choice Manager Lorna Harasymiuk who commented:
"Aiysha settled in really well at Project Choice and has proved to be a fantastic asset in her placement on Ward 1B.  She is well-liked by her colleagues, the children on the ward and her fellow students.  She has a strong work ethic and is a quick learner. She works alongside the health care assistants on the ward and has been involved in a variety of day to day tasks assisting the nursing staff. She has gradually increased in confidence and has learned to do several tasks independently. Her ward manager has requested that her placement is extended, this shows how much she is valued"

We couldn't have put Lorna's final words about Aiysha better ourselves:

"Well done Aiysha we are delighted with your progress"
 
We can't wait to see what you achieve next!!! Keep up the fantastic work!!