Past Learners Return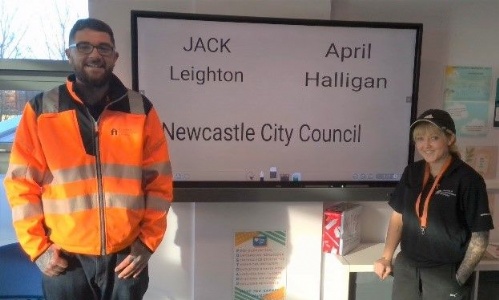 As a tutor for Trinity Post 16 Solutions Ltd I am always immensely proud to hear the success of past learners. For current learners it is a fantastic opportunity for them to hear first-hand of the do's and don'ts, ups and downs of learner life, being an apprentice and ultimately what it means to work and enter adulthood.
We were delighted to welcome back Jack and April who kindly and honestly shared their experiences. Both are past Trinity Solutions Academy learners. Both went on to secure apprenticeships with Newcastle City Council and then employment.
Their key message was to learn as much as possible whilst a learner. Jack admitted he maybe wasn't always the best behaved when younger and he knew he had to make a choice to stick in or potentially go down a path that wouldn't have a positive outcome.
He told learners that when he did stick in, he knew maths and English would be the most important subjects to gain qualifications in as without these you couldn't make much progress.
April was delighted to hear that as an enrichment activity we have offered Highway Code theory sessions. The one thing she wished she could change was learning to drive when she was a learner rather than wait until later. She told learners how she got quite far in the council but then was held back slightly as she didn't have a licence to allow her to drive the trucks.
Both overcame barriers to get to where they are today. April's key message was to ask for help! She told learners how even though it was difficult, once she spoke to her tutors the help and support needed was put in place which helped her to succeed. Something Jack agreed with. His final words of advice "Have a fire in your belly and go for it and you'll achieve what you want in life!" That positive outlook certainly worked for Jack and April. Congratulations to you both, fantastic achievements!!