Project Based Learning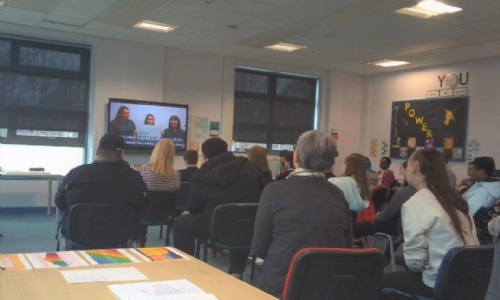 Project based learning is a dynamic classroom approach. It intends to actively engage learners with relevant and real-world challenges with personally meaningful projects. Learners work on a project over an extended period of time where they creatively engage in solving a real-world problem. Once a theme has been identified learners set a complex question to investigate. In embedding their whole curriculum to reach an outcome they create a public product or presentation for a real audience.
By working this way, learners develop deep content knowledge in a way that they understand as well as critical thinking, teamwork, communication, creativity, resilience and problem solving. All much needed skills in Preparing for Adulthood, independence and employment.
Back in December 2021, Trinity Post 16 Solutions Ltd met with Sarah and Karen from the Violence Reduction Unit (VRU) to decide on a theme for piece of Project Based Learning work. After much discussion learners voted to create a piece of work questioning 'what is a healthy and unhealthy relationship'.
Between January and March 2022, Trinity Post 16 Solutions Ltd have worked in collaboration with Northumbria's Violence Reduction (VRU) unit. They have also welcomed guest speakers such as digital media experts and attended a workshop at the Princes Trust to creatively explore this very difficult subject matter. Learners used the outcomes of discussions and knowledge developed to create individual canvases displaying their findings.
On Monday 28th March a group from Trinity upper school along with senior leaders, governors and academics from Newcastle University who have helped develop the programme were invited to a showcase event. Trinity Post 16 Solutions Learners presented their individual art work along with a video they had created on everything they had learned together.
Project Based Learning with the Violence Reduction Unit has made the connexion between classroom learning and the real world, educating and equipping learners with the knowledge and skills to make positive life choices. Governor Eric Fletcher recognised this in having conversations with learners discussing what they had learned from the PBL sessions. In a message following the event he said
"Thank you so much for a great PBL Showcase. This demonstrated the hard work from Trinity Post 16 Solutions learners and staff, and our team. The insight shown in the artwork did the students proud - I found the messaging really powerful"
Both Sarah and Karen said how much they enjoyed working with our learners. We would like to thank them for all of their hard work and input in creating a very thought provoking showcase on such a difficult subject area.