Social Action Project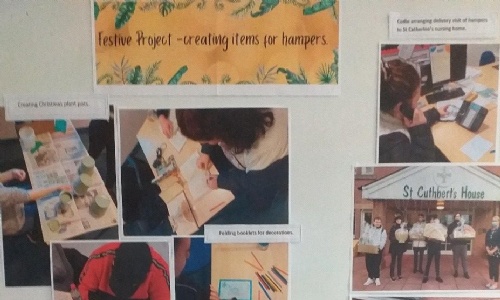 In the lead up to Christmas, learners were involved in a Social action Project. From an initial discussion they decided to collate items to produce hampers for St Cuthbert's Nursing Home, on Westgate Road.
Learners were involved with, writing letters to local companies to request donations as well as creating information posters to request donations from staff. They made eco-friendly Christmas decorations, decorated seasonal plant pots for the plants they pottered, and produced amazing Christmas cards and personal Christmas tag messages to cheer the clientele.
The learners developed lots of transferable work skills such as letter writing, sustainability, budgeting, working to deadlines and teamwork as well as doing something positive for their local community. So proud of what they achieved!
Gill Ennis the Home Manager, was most appreciative of the food, gifts and efforts the learners had gone to.
Learners later commented that being involved gave them a good feeling as they had made others happy.