Army Elite Skills Activity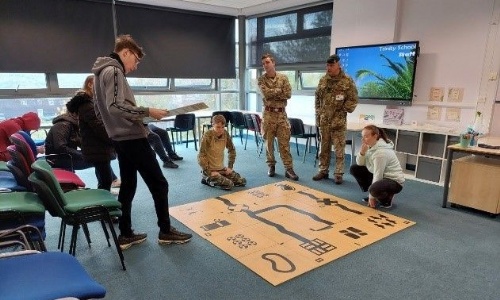 Trinity Solutions Academy welcomed the Army's Outreach Team to site who delivered an Elite Skills session to learners as part of the Enrichment Programme.
Working in small groups, learners rotated through a series of activities putting their skills to the test including teamwork, problem-solving and communication.
Activities included assembling an Ethernet connector following instructions, a physical Barrel Bridge activity – transporting all members of the team across a bridge constructed themselves using communication and teamwork skills and a jigsaw mapping activity – using problem-solving skills.
Sarah Butler, Employer Engagement Officer said 'Encounters with employers are a vital part of the Careers Education Information Advice and Guidance programme at Solutions as it gives learners the opportunity to hear first-hand from individuals about career pathways, skills valued by employers and the world of work'.
Learners heard from Soldiers about their career pathways and the many opportunities available within the army whilst developing a range of transferable skills.
The event culminated in a teachers v learners challenge, namely Barrel Bridge, which saw staff marginally beat the students time to secure a victory!