Black History Month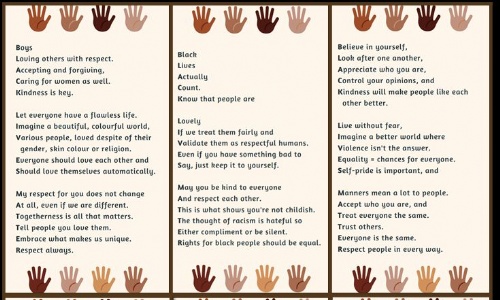 In honour of Black History Month, English learners participated in a variety of tasks throughout October that explored and challenged the issue of racism in the UK.
During a lesson on compound sentence formation, entry-level learners looked at statistics related to racism in football: from fan reactions in stadiums, to post-match social media attacks, to the inherent racism in football commentaries.
Level 1 learners utilised their new paragraph structures to suggest how we can tackle racism in education and on social media in order to make the world more inclusive. We debated All Lives Matter vs. Black Lives Matter as well as the protests that took place during the 2020 pandemic.
Level 2 and GCSE learners studied Marcus Rashford's inspirational letter to MPs concerning Free School Meals and debated his treatment in the media compared to his white counterparts. We discussed the importance of younger generations having role models who look like them and discussed how high expectations and goals can radically improve a person's mind-set and lifestyle.
Furthermore, all learners were tasked with creating their own ACROSTIC poems for Black Lives Matter.