National Apprenticeship Week 2022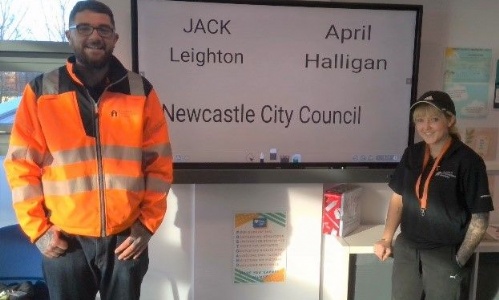 National Apprenticeship Week took place between the 7th and 13th February 2022. Trinity Solutions Academy planned a range of activities and invited guest speakers to raise awareness of apprenticeships as a potential progression opportunity upon leaving Trinity.
To kick start activities we invited April Halligan and Jack Leighton both ex-learners of Trinity Solutions who successfully secured Apprenticeships with Newcastle City Council to talk about their career pathways. They spoke of their time at Trinity, the support they received and their experience of their apprenticeship. We were thrilled they returned to Trinity to talk of their success and to motivate and inspire our learners.
Newcastle UXL delivered Apprenticeship Awareness sessions where learners were given the opportunity to register with the Governments 'Find an Apprenticeship' vacancy service and learn of hints and tips of navigating, searching and applying for Apprenticeship opportunities.
The learners have also benefitted from virtual insight sessions delivered via CITB. The first of the sessions 'Insight into Bricklaying Apprenticeships' with Keepmoat Homes and the second 'Insight into Joinery Apprenticeships'.
Trinity Solutions very much value the input from local employers and ex-learners in raising the aspirations of our learners. It is important that our learners hear from a variety of employers and employees about their career pathways and expectations to better prepare them for their next steps and the world of work.