This week at the garage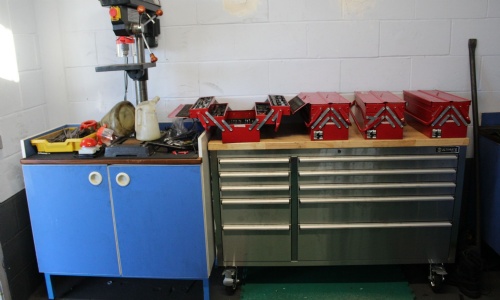 This week at the garage was a different one for the learners in terms of routines being altered; however our learners really pulled together excellently and showed great communication and team work skills.
On Wednesday and Thursday; our level 1 Motor Vehicle students were joined by the rest of the Solutions Post-16 students in the garage, which although was strange for them at first, ended up being very beneficial for them all as the way they mixed together to get tasks done was exceptional.
The learners worked together to do some flooring in a camper van, which combined construction with motor vehicle to make it all the more relevant to them, and they seemed to enjoy the task in hand, as well as completing it with little fuss or bickering; they worked together fantastically.
Some of the other learners did some car valeting which involved washing, polishing and drying a selection of cars; the learners had never worked together in this group before, let alone on something that wasn't their main vocational area, yet despite this they absolutely excelled and every car they washed was impeccable, they are a real credit to their vocations.
All of the learners grouped up to tidy the garage and everyone mucked in to get it looking spotless; the learners had a fantastic couple of days, some outside of their comfort zones, but all achieving great success and they thoroughly impressed throughout.