This Week in Motor Vehicles 25.05.2022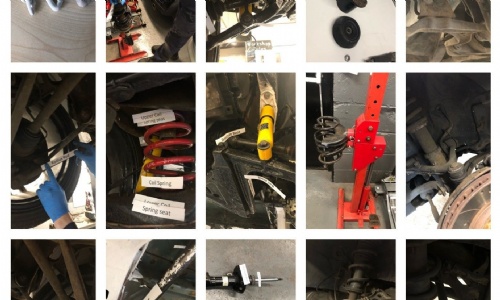 This week learners on the level one Diploma in light vehicle maintenance have been learning all about suspension in unit L1AM11 suspension systems and maintenance.
This unit enables learners to develop knowledge, understanding and skills associated with the basic operation of suspension system components. This unit also requires learners to carry out routine suspension system maintenance procedures. As well as talking about suspension systems, learners took part in labelling all components as an initial assessment task and upon finishing the unit, they were ready to be assessed.
Learners also carried out removing and refitting a suspension unit, visually inspecting a suspension system, and following safe working practices, including risks and hazards associated with the tasks. They selected and used the appropriate information, tools and equipment for the task ensuring they were following the manufacturer's procedures. Finally, they checked the correct operation of systems and components on completion of the task and explained how to correctly dispose of waste materials.