Building a Better Future​​​​​​​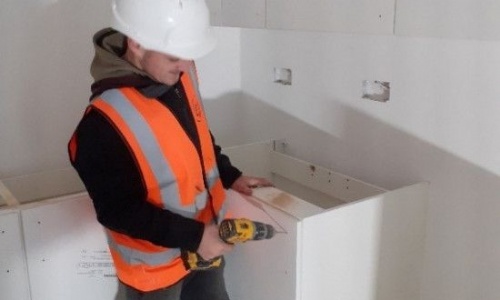 Callum was recently given the opportunity to gain some valuable work experience with ESH Construction as a Joiner, installing kitchens and hanging doors within a new build assisted living complex.
Callum gained knowledge and experience of the construction industry by carrying out 'real-life' tasks working alongside a dedicated work placement mentor and his apprentice.
Callum said he felt the experience had been worthwhile, he felt he learnt a lot more being onsite than in the classroom. The employer was very impressed with Callum's attitude to placement, Ged McKenna, the Site Manager, said Callum is a sound lad, he has completed all tasks and activities without question whilst adhering to strict health and safety rules and regulations.
Students back at the hub did not miss out on the action, they welcomed Victoria McCormick, Social Value Co-ordinator for Esh Construction who delivered a presentation on careers in the construction industry including employer expectations and progression routes. The session gave students the opportunity to explore the different roles within the industry - not just your typical trades but other roles including administration, HR and Law as well as ask questions about entry routes into the sector.