Congratulations to Sarah Stuart and the Land Based Studies Team​​​​​​​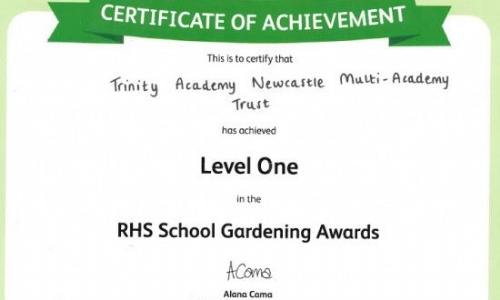 RHS SCHOOL GARDENING AWARDS LEVEL 1 & 2
Land Based Studies staff registered with the RHS School Gardening Awards, the rewards scheme is made up of five levels that provide achievable goals, Sarah and the team have ensured that students can benefit from learning, achieving and be rewarded for their progress.
Level 1 – This level is about planning the gardening project and identifying the benefits for the Academy.
Level 2 - This level you should be beginning to grow plants and use tools safely and understand basic gardening terms.
For achieving these two levels the Land Based Studies programme has received:
A colourful growing year calendar full of tips and activities to do in the garden
An RHS gardening book full of tips and guides plus a voucher for 30% off Bulldog Tools
Sarah has also completed Level 3, 4 and 5 and we are waiting for approval.