Violence Reduction Unit - Northumbria Police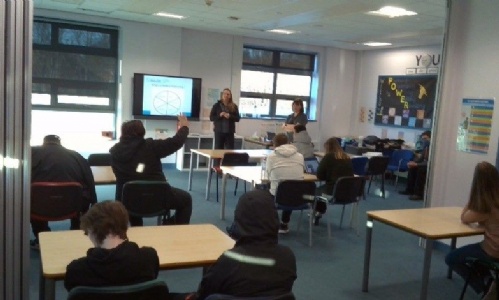 We have been lucky enough to be engaged in sessions with Sarah and Karen from the Violence Reduction Unit, connected with Northumbria Police.
Learners have been experiencing, different activities in these sessions and have so far covered Healthy Relationships which has involved identifying what is and isn't healthy and Gas-lighting which learners learned was knowing when to be aware that others are trying to manipulate you.
VRU devices were used as a resource to get learners involved. Using the headset, learners had the task of finding clues regarding relationships. They had to identify pieces of written notes, and in their safe VRU environment, physically pick them up and move into their next clue area. It wasn't easy, there were obstacles to overcome. Whilst a very serious subject matter the learners had a lot of fun.
These sessions will progress to identifying a project that the learners will devise and develop to share a positive message with others. Watch this space!...