Employer Encounters – Keepmoat Homes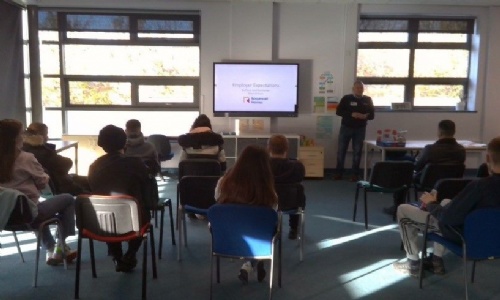 Learners from Trinity Solutions Academy welcomed Geoff Scott, Social Value Manager from Keepmoat Homes who was invited to talk about Employer Expectations and the skills required by employers in the local area.
Having employed four ex-Trinity Solutions Learners as bricklaying and joinery apprentices, Keepmoat Homes are one of the largest house building companies in the UK and a potential progression route for many of our current Construction Learners.
Geoff reiterated the importance of Maths and English qualifications as well as skills and qualities required by employers including; Having a positive attitude, excellent time keeping ability, maintaining a good attendance record, being reliable, excellent communication and team work skills, ability to follow instructions and respecting authority. Most importantly, individuals must be willing to learn to enhance their skill set and see the big picture.
Geoff raised aspirations by talking about his challenges – living in poverty due to the miners' strike, leaving school in year 10 with no qualifications and his struggles with ADHD. Geoff however, was not afraid of hard work and gained his Maths and English qualifications at the age of 32, with degree in management and project management, Geoff now has a successful career working for Keepmoat. 'You can achieve anything if you set your mind to it'.
Learners will visit The Rise, Scottswood in the new year and will participate in Keepmoat's Construction challenge as part of the Careers Education Information Advice and Guidance Programme at Trinity Solutions.