A Week in Motor Vehicle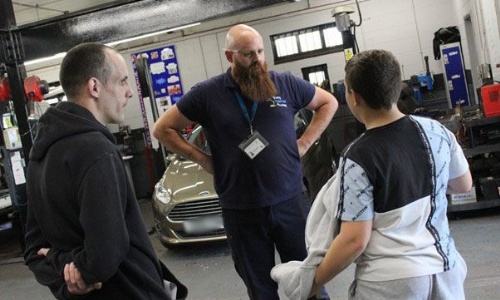 This week has been our first week back from the summer holiday, and the new learners that have started within the garage are off to a flying start. They have been working all week becoming familiar with the garage layout, tools, supplies, and taking their first steps on their Motor Vehicle journey. But they aren't the only ones.
To help with the new learners and expand our cross-vocational knowledge, staff who usually work in the Construction vocation have also been attending the Motor Vehicle sessions. This has created a more supportive environment for the new learners, but has also meant that vocational staff are becoming familiar with how each other operate and how areas are laid out.
At the end of the week, the learners are energised for the coming week and excited for what lies ahead of them on their qualification. The Construction staff, who have taken part in the placement swap, now have new methods and ideas to take back to their own vocation. This has also helped staff and learners get to know each other and opened up great relationships and communications between them too. Working across all Vocations is a great way to support our learners in recognising the transferrable skills that can be used in a variety of careers and job roles.